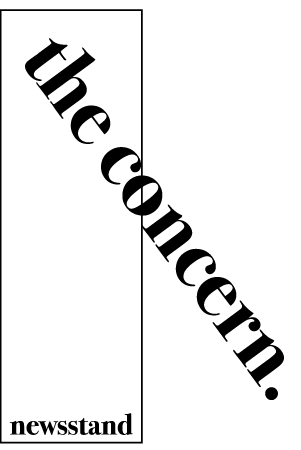 Meet the Concern Newsstand.
The Concern Newsstand is dedicated to preserving literacy in paper form in a dying market. The Chapel Hill / Carrboro, NC area no longer has any used bookstores or magazine stores, for instance, and the Concern Newsstand's Temporary Kiosk offers this service to the community. The Concern Newsstand is an online store as well as a pop-up in local businesses in the Triangle area that sells hard-to-find publications, curated books, and local and international artists' printed works.
What was your introduction to the world of art book publishing?
I have a background in art myself and later in arts administration as well as wholesale/retail business. This combination of experiences and connections made this project come about.
Why art books?
Artist books & zines are generally of limited edition and are something very special. It is a tangible medium for one to observe an artists' thoughts. I am selling art books because they are inspiring to me, and I think the ones I select could be to others as well.
Are there any organizations or people in your community that have been particularly influential to you and your project?
The Internationalist Bookshop was an inspiration to me. It was a volunteer-run bookstore in Chapel Hill/Carrboro for over 30 years specializing in alternative and small press materials that just closed last year.
Your favorite art-related publication or art exhibition from the last year?
I really love the Anni Albers Notebook 1970-1980 by David Zwirner Books. It's so cool to see how relatable her sketches were. The quality of the book is amazing- like the real thing.
Do you have any upcoming projects you would like to share?
The Concern Newsstand will have a semi-permanent corner at Lump Gallery in downtown Raleigh starting in February. Lump has been around for over 20 years and just recently became a non-profit. It's an honor to be a part of it. We will continue to have our online store and do pop-ups locally even so.